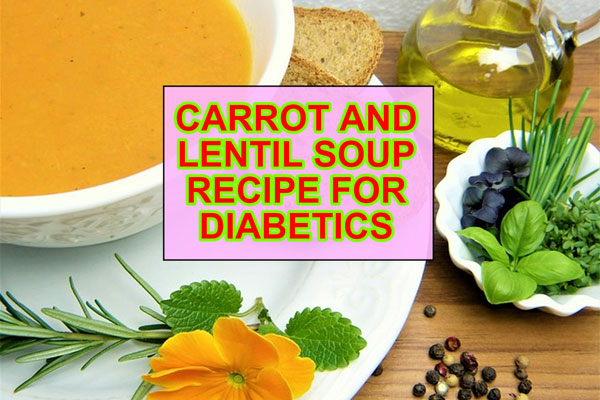 Today we have brought a soup recipe of carrot and lentil. Well, soups can be a very good choice for the diabetics. As diabetics have to eat something between the meals to as they are not recommended to keep their stomach empty for longer. So, this lentil and carrot soup can be a great addition in their diet.
In our previous article, we have already talked about numerous health benefits of carrots in diabetes disease. That's why this time we are talking about how to add soups in your diet. Let's start by talking about this easy to cook recipe of carrot and lentil soups.
Carrot & Lentil Soup
These both items are very healthy as they maintain your health very well. The best thing is that both carrot and lentil do not have any side effects of consuming. So, you can definitely add them in your diet.
Ingredients for the Preparation of the Soup:
The ingredients which you need for preparing the carrot and lentil soup are very easily available in one's household. These are as following:
2 tablespoons of olive oil
2 Tablespoons of cumin seeds
125ml of milk
600 grams of carrots (washed and grated)
A pinch of chilli powder with flakes
1 litre hot vegetable stock
plain yogurt 
140 grams of split red lentils
naan bread
Steps to Follow in Preparation of the Soup:
You need to first of all heat a pan and fry 2 tablespoons of cumin seeds dry along with a pinch of chilli flakes. It will take a minute. You can also see them jumping around the pan and you can feel there flavor too.
Then add 2 tablespoons of olive oil, 140 grams of red lentils, 125 ml of milk and 600 grams grated carrots and 1 liter of hot vegetable stock in order to boil them all together.
You need to sim this mixture for about 15 minutes. After that, you will find that the lentils will be swollen and they will get a soft texture too.
Further, you can use the stick blender in order to whizz the soup. Alternatively, you can even use the food processor for the same purpose. It is completely up to you whether or not you need the smooth texture out of it.
You can now garnish this soup with the help of toasted spices, you can add little curd to eat to enhance the taste. Have naan bread with it. The soup is ready.